About The Great Okinawa Trade Fair
What is The Great Okinawa Trade Fair
The Great Okinawa Trade Fair is held to promote Okinawa as a global logistics hub, contributing to the expansion of overseas sales routes for specialty products from throughout Japan.
 Making the best of this opportunity to bring individuals in agriculture, forestry, and fisheries, and food product suppliers throughout Japan, and buyers from home and abroad together in the global logistics hub and taking full advantage of Okinawa's great location in the heart of East Asia, we will provide outstanding opportunities for international food business discussions with support from all of Okinawa, and promote imports of agriculture, fishery and other food products of Japan.
 We are holding one of the largest trade fairs in Japan with the participation of many overseas buyers for business negotiations based on appointments made in advance, which makes it possible for us to provide better opportunities than other trade fairs can. While seeking branding strategies, we provide buyers and suppliers the opportunity to see the benefits of Okinawa as a business and trade base, aiming to establish our position as a global base for business negotiations.
 The 2014 Great Okinawa Trade Fair highlights Okinawa as a trade base in Asia and a bridge for world trade (bankoku shinryo) as we expand further for Japan and Asia.
Event Details
Date

Nov. 21 (Mon), 2016 10am ~ 5pm
Nov. 22 (Tue), 2016 10am ~ 5pm
Event Location

Okinawa Convention Center
Details

・Business Negotiation Event for Foods
・Individual Business Negotiation Style
・Prior Matching Through the Web
Event Scale

Buyer/200 companies Supplier/220 companies
Application Period

April 25 (Mon), 2016 ~July 29 (Fri), 2016
Registration Fee

JPY64,800(tax included)
Event Features

・Individual business negotiation fair with one of the largest number of foreign buyers
・Support to reach a contract agreement by organizing pre-event workshops and post-negotiation follow-up
・Enlightment activity of improving transportation efficiency by utlizing the Okinawa International Logistcs Hub
Event Schedule

Day 1 (Nov.21)

Opening Ceremony

Business match-making event (3 discussions)

Free Business Negotiations

Business match-making event (4 discussions)

Welcome Reception / Food Show

Day 2 (Nov.22)

Business match-making event (3 discussions)

Free Business Negotiations

Business match-making event (4 discussions)
Appealing features of Okinawa Prefecture
The Subtropical and Marine Climate of Okinawa
Okinawa, with its subtropical and marine climate, is blessed with a rich natural environment, unique culture and history, and captivating tourism and resort resources, making it the largest marine resort area in Japan, attracting many tourists from Japan and around the world. During the Ryukyu Kingdom era, it thrived through transit trade with East Asia through its geographical location.
 Today, large numbers of tourists, not only from Japan, but also from around the world visit Okinawa in search or relaxation and comfort.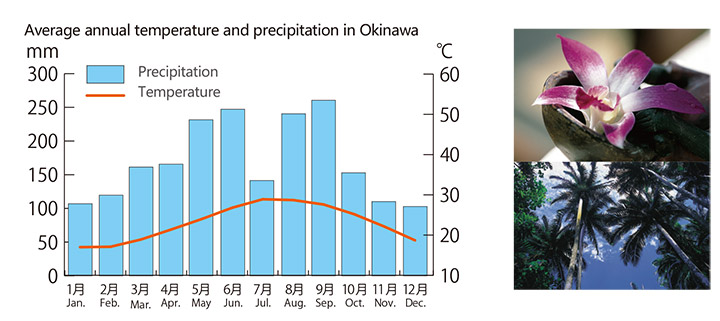 The geographical superiority and advantages of Okinawa
Not only is Okinawa located in an ideal geographical location, but it is also an area that holds countless possibilities from a global perspective in terms of facilities at Naha Airport, human resources, and much more.
Utilizing the 24-hour operated Okinawa International Logistics Hub to transport local products from all over the country to Asia
The International Logistics Hub was built in the Naha International Airport. Since its establishment in autumn 2009, the number of international cargo handled here has rapidly increased to become the third largest in Japan (as of July, 2010).


Japanese 'food' has become very popular around the world, including Asia. We hope to contribute to increase international competitiveness with added-value of logistics.
Example of physical distribution to Hong Kong